5 Tell-tale Signs If You're Getting Into A Loan Scam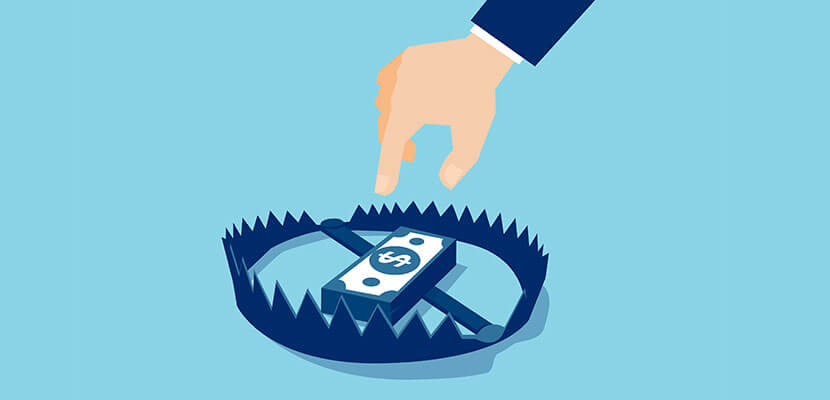 There has been numerous media coverage on loan scams as of late as the Covid-19 pandemic has enticed these cunning scammers to enhance the tricks under their sleeves to trap desperate individuals in getting into a loan scam. We are certain that most of you have heard stories of people being scammed and scratched your heads as you questioned how they can be so easily deceived.
The reality is that these scammers are persuasive as they are charismatic: a few words, dashing smiles, some strategic ego-brushing, and you're under their spell. Thankfully, there are ways for us to distinguish between legitimate loans from loan scams. So, before you decide to take out a personal loan in Singapore, look out for these tell-tale signs:
#1 Upfront Payment
If you are required to pay an upfront fee or deposit to take your personal loan application forward, it is highly likely that it is a scammer trying to make off with your money. Just ask any banks or licensed moneylenders and they will confirm that a legitimate lender will never ask you to make any payments prior to receiving the loan. As a matter of fact, the act is deemed illegal in Singapore. So, if you find yourself in the presence of a so-called loan agent or consultant explaining that the upfront payment is for mandatory processing fees, advance repayments or collateral, it is best you say your goodbyes and walk away.
#2 Missing Physical Address
Scammers will do everything in their power to make it impossible for you to reach out to them in the future. How, exactly? By failing to provide a physical address. This is done intentionally as without a physical address, it will be difficult for you to press charges let alone for authorities to pursue them. Before you are swept away by the perks of applying for a personal loan, put the brakes on until you can confirm the existence of a physical address.
#3 No State Registration or Licenses
One of the biggest tell-tale signs that you are getting scammed is that the business doesn't come with any legal license or registration. In Singapore, it is mandatory by law for every licensed moneylender to be registered with the legal authorities. So, if a sketchy individual approaches you with a personal loan plan that wows you, remember to ask for their license and registration number to prove their legitimacy. In Singapore, every legitimate and authorised moneylending institution is registered with the Registry of Moneylending, so, you are always free to confirm with them of their legitimacy.
#4 No Credit Check
Did you know that credit checks are important for banks, licensed moneylender and financial institutions as it helps them determine how financially trustworthy you are? But, with scammers, they would not even spend five seconds to do a credit check as their intention is to scam you out of your money. While credit checks can be a hassle, it appears that the hassle may have helped us to avoid being scammed when we apply for personal loans. As a matter of fact, if the lender is making too good to be true guarantees before running your financial history, that is always an indicator to keep your guard up and be cautious.
#5 Incomplete Loan Offer
As their intention is dishonest, most scammers will prepare a mock offer in black and white that passes the bare minimum for a loan offer for the sake of deceiving our eyes. But, if you look closely, you'll find many flaws to the document. In fact, some fictitious loan offers will be incomplete. That is why it is incredibly important for us to always read the fine print, before signing any personal loan documents, as it will be easier for us to pick up any red flags that would demand us to walk away and never look back.
Some other signs to watch out for include the following: For one, a licensed moneylender will not apply pressure to push you to be agreeable. Unfortunately, they are masters of relaying sweet promises as scammers have a habit of offering deals that are too good to be true, such as offering 0% interest rates or 100% approval. As enticing as it may be, it is important for you to stay alert as there is no such thing as a flawless personal loan. Similarly, a licensed moneylender, bank or financial institution will never ask for your debit or credit card details. Speaking of card details, it is always best to refrain from sharing your identification number, driver's license or any other personal information until you are 100% certain you are dealing with a legitimate loan agent or consultant.
It is unfortunate that we live in a time where a handful of irresponsible individuals are taking advantage of the financial woes experienced by many to feed their pockets. While personal loans have undoubtedly many benefits that can actually help improve our credit score, manage our debts and provide us with financial assistance of room, let us be more vigilant in ensuring we are dealing with the right people before taking out a personal loan in Singapore.