A guarantor is someone who agrees to pay a borrower's debt if the borrower is unable to do so. Every good legal money lender in Singapore gives its clients the option of having a guarantor if they do not qualify for a loan themselves.
If someone has asked you to act as guarantor, it is a testament to your financial standing as well as the trust that the borrower places in you. However, financial matters tend to come between friends and family. You should take such a step only after adequate consideration.
Here is what you should know before you and after you sign the contract, and after the loan has been settled.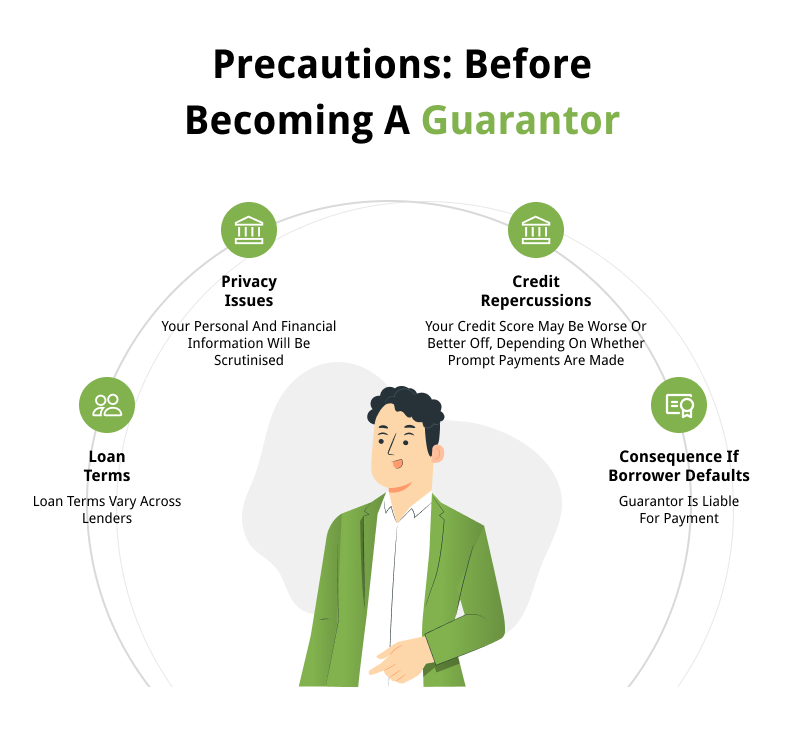 Before signing – the precautions
A guarantor does not receive any money directly from the legal money lender or the borrower. However, they are liable for the entire loan amount, all interest, and any fees or penalties associated with the loan. If you place yourself in this lopsided equation, be aware of these four things:
1. Loan terms
Every licensed money lender in Singapore offers a range of different loans and each comes with unique terms and conditions. For example, a business loan may be linked to commercial profit. If you are co-signing such a loan, go over the business plan yourself to assess its likelihood of success. Only then should you consider becoming a guarantor.
2. Privacy issues
The document requirements for a guarantor are the same as those for a borrower. You will have to share your personal and financial information, including your credit history and current financial circumstances, with the money lender in Singapore. The borrower will also see this data during the loan assessment process.
3. Credit repercussions
When you co-sign as a guarantor, your credit score is affected in the same way as if you were the sole borrower. It reduces your ability to take on additional debt from a legal money lender until the loan has been repaid in full. This affects your chances of getting a home loan, car loan, credit card, or even an overdraft.
4. Consequences of default
If the borrower fails to make payments on time, you are responsible for all cumulative late fees, admin charges, and additional interest. Even the best money lender in Singapore will pursue you for the full amount due. This could add up to twice the original loan amount (a limit placed by Singapore law).
As we have seen, there are several serious concerns a guarantor must be familiar with. Do not allow anyone to pressure you into becoming a guarantor for them. It is your financial health on the line and the decision is solely yours to make.
Are there any advantages of being a guarantor?
Yes, but the advantages are fairly limited: There may be a positive impact on your credit score. This score takes into account how often you take on debt as well as the diversity of that debt. Acting as a guarantor widens your credit base and, especially if the loan is settled on time, tells banks and licensed money lenders in Singapore that you are a trustworthy borrower.
With a better credit score in tow, banks as well as the best money lenders in Singapore may offer larger loans, lower interest rates, and longer repayment periods. Apart from the possibility of saving money on your loans, you could even qualify for more lenient terms as well.
Throughout the loan repayment period
As a guarantor, you do not receive any money from a money lender in Singapore, but you must still keep abreast with the repayment progress. Always maintain a close relationship and communicate regularly with the borrower. Ask them to come to you before an instalment is due if they are struggling to gather the funds.
With this approach, you can foresee and circumvent missed or late payments, and the additional costs associated with defaulting. You will also prevent any damage to your credit score.
After the loan has been repaid
No one particularly enjoys being a loan guarantor because it is an additional burden that offers limited advantages. The person for whom you co-signed the loan may make every payment on time and repay the loan themselves, but it may still be best to avoid becoming a guarantor for them repeatedly.
Instead, help them gradually build their credit. If they need a loan again but you would rather not stand as guarantor, bring them in to speak to our LoanHere loan experts. We work with the best money lenders in Singapore to provide a wide range of loans that cater to your needs (e.g. personal loan, renovation loan, study loan, vacation loan, etc).